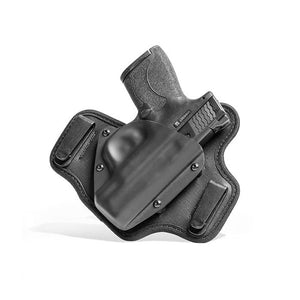 Our Concealed Carry Holster: Big Deal. Small Profile.
Shopping for a concealed carry holster can be frustrating when you have to choose between a hard, bulky shell that jams uncomfortably against your side all day, or a cloth holster that doesn't protect the trigger guard on your firearm.
We know how important it is to own a reliable holster that safely retains your firearm but is also comfortable enough to practically carry around all day. Women deserve to own quality holsters that help them safely conceal a firearm in the wardrobe they love.
Masters Of Innovation: How Our IWB Holster Excels
Tactica has designed an inside the waistband concealed carry holster specifically for women's bodies. This low-profile holster features a slim neoprene backing that's reinforced with a patented spring steel core, comfortably conforming to your body and allowing your skin to breathe.
Our hybrid design pairs this comfortable backing with a custom-molded shell that's been designed to fit the exact make and model of your gun, which ensures no extra bulk, perfect retention, and proper trigger guard protection.